Are High School Students Prepared 

For College?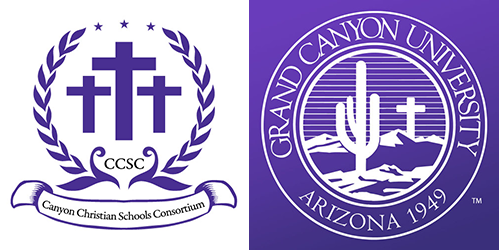 We are a college preparatory high school and we are members of Grand Canyon University's Canyon Christian School Consortium (CCSC). If you graduate with a 3.0 GPA, 19 ACT or 920 SAT score, this scholarship awards $5,000 per academic year if you live on campus or $2,500 per academic year if you live off campus. If you receive a CCSC scholarship, you are ineligible for the Grand Canyon State University Grant (in-state and out-of-state). Additionally, you are required to perform 20 hours of service each semester, as determined by the university, attend Chapel and must maintain a GCU GPA of 3.0 or higher each academic year to continue receiving the award.
High school students have the opportunity to participate in several sports, work on the yearbook or school newspaper staff, play in the band, perform in drama productions, and do many community service projects.  
This makes for the well rounded graduates that colleges are seeking.  
We annually administer the PSAT test for all high school students.  The TerraNova 3 standardized national testing is also done annually at all grade levels, and high school students can receive scholarship opportunities based on their test scores.  Graduates each year receive scholarships based on their GPA's. Our graduates that complete all four years of high school finish with 28-34 high school credits.
The majority of our graduates go on to college and between 85%-100% receive scholarships for college.  Our students tell us that going from high school to college is an easy transition for them and they feel prepared to succeed.